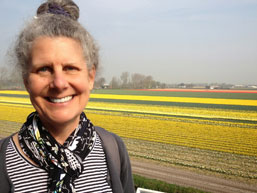 Diane's fascination with everything around her started when she was a young girl, witnessing her father reading two newspapers a day and watching the TV news every evening. During the summer, she was held captive in the back seat of her parents' Plymouth Fury as they traveled the United States.
Diane has been a writer and editor since 1982, working at daily metro newspapers including the St. Petersburg Times (now Tampa Bay Times), Florida Today, and the Boston Globe. She has been freelancing full time since 2002, writing for newspapers, magazines, websites, nonprofits, and more. In 2022, she founded Vacation Donations, an initiative to reduce waste and encourage reuse in the short-term rental industry.
In 2017, Diane won a silver award in the national Lowell Thomas Travel Journalism Competition for "Amsterdam Restaurant Takes Food From Wasted to Tasted," which ran in the New York Times. In 2012, Diane won the Personal Essay category in the American Society of Journalists and Authors Awards for "Once, a Husband," published in the New York Times, and also was awarded an Emerging Artists Grant from the Durham Arts Council to assist with transgender-themed writing. In 2008, Diane won a national Lowell Thomas Travel Journalism Award for her New York Times story on regional home exchanges.
Diane's farm-travel guidebook Farm Fresh North Carolina, the first of its kind in the country, came out in 2011 from the University of North Carolina Press, which has since launched a "Farm Fresh" series. Diane has contributed to other books, including Lonely Planet's "Epic Bike Rides of Europe" in 2020; "27 Views of Durham" in 2012; the Boston Globe's "Checking In 2007: Places to Stay in New England," and "The New York Times Practical Guide to Practically Everything: The Essential Companion for Everyday Life," in 2006.
Diane occasionally teaches writing workshops and consults with tourism entities, especially in lesser-known or rural areas.
After a dozen years in Durham, North Carolina, Diane, her (Dutch) partner/travel photographer Selina Kok and their scrawny black cat (RIP) moved to the Eindhoven area in the south of the Netherlands (not Amsterdam!) in 2014. Diane's North American/winter headquarters headed south to Indian Rocks Beach, Florida.